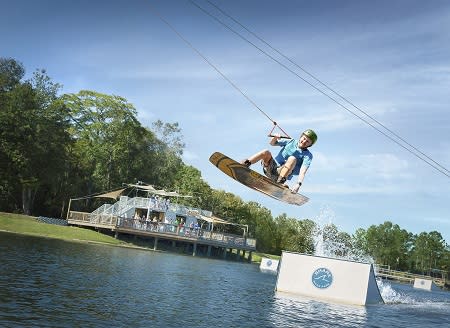 If you are looking for the ultimate adrenaline rush, you can fill your need for speed in North Myrtle Beach, South Carolina. Check out our top suggestions for beach-goers to enjoy a vacation filled with thrills and chills!
1. Shark Wake Park
Bring your board or rent the gear you need for cable wake boarding at one of North Myrtle Beach's most thrilling attractions, Shark Wake Park. Founded by Greg Norman, Jr., this boat-less wakeboarding park is an awesome place to try wakeboarding for the first time or for seasoned pros to shred! Rides start at $25, or you can hang out on the viewing platform and grab a cold beer at the Shark Shack to watch all the toeside tail glides.
2. Barracuda Alley
Suit up and hit Coastal Scuba for one of their amazing North Myrtle Beach area scuba dive sites, like Barracuda Alley, named for the abundance of you-know-who's who frequent this artificial reef. Coastal Scuba offers classes, charters, and scuba tours for all levels. Check out their full list of dive sites in North Myrtle Beach here.
3. The Ocean
Anytime is a great time for thrill seekers to get an adrenaline rush from surfing, parasailing, wakeboarding, kiteboarding, kayaking and Jet Skiing. Travel Tip: In addition to less competition for the best waves, Jet Ski and boat rental rates go down in the fall as peak tourist season winds down, allowing you to enjoy more of your favorite water sports for less money!
4. Go Ape Zip Line & Treetop Adventure
Believe it or not, there is more to do in North Myrtle Beach than just water sports! Land lovers can spend a day flying through the trees and navigating a ropes course in the forest canopy at Go Ape Zip Line & Treetop Adventure. Zip lining is the latest extreme sport to hit the Grand Strand. Separate zip line and ropes courses are provided for adults and kids.
5. Alligator Adventure
Take a ride to the "Reptile Capital of the World" for an up-close experience with some cold-blooded animals. Alligator Adventure, located adjacent to Barefoot Landing, is home to the largest crocodile on exhibit in the United States. Named Ultan, the 52-year-old croc weighs in at 2,000 lbs. and is over 18 ft. in length. You can watch alligator feedings through mid-October. When the weather cools off in the fall, live alligator handling shows are offered as a seasonal treat!
6. Helicopter Tours
Those who love heights can fly over North Myrtle Beach and get a bird's eye view of the expansive coastline in one of the area's many helicopter tours. At over 700 ft. in the air, you'll get a truly unique view of North Myrtle Beach, the miles of beautiful beaches that encompass its coastline, popular tourist destinations and native wildlife.
7. Inlet Point Plantation Stables
Whether you prefer to walk, trot or gallop, you can do it all at Inlet Point Plantation on horseback, that is! Several riding trails are available, including a horseback ride on the beach, a tour of the plantation and a ride along the Intracoastal Waterway. There's no better end to the day than watching the sun set over the ocean while riding horseback on the beach. Rides are offered year-round, Monday through Saturday - plus there's free ice cream when you're done!
As you can see, there is no shortage of fun activities to get your adrenaline pumping in North Myrtle Beach. All that's missing is you! So round up your friends and family, book a rental and come feed your craving for an adrenaline rush at the beach!