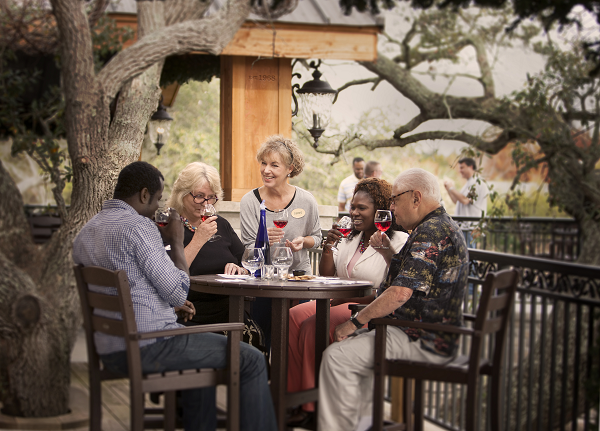 Located in the heart of North Myrtle Beach, just off Highway 17 near Barefoot Landing, you can't miss Duplin Winery's big, beautiful tasting room and gift shop. Duplin Winery is open year-round, Monday through Saturday. Even better—no reservations are required, so it's always effortless to walk in and enjoy something cool, sweet and easy.
While you've probably heard of this popular brand of Muscadine wine (or seen it at your local grocery store), you might not know you can do more than pick up a bottle or two at the massive 15,000-square-foot North Myrtle Beach location. So, we've compiled three of the can't-miss things to do during a visit to Duplin Winery:
1. TAKE A TOUR
An afternoon spent learning about Duplin's winemaking method is an afternoon well spent. During a tour, you can watch the bottling process and learn more about the history of the winery's roots in Rose Hill, North Carolina. The helpful staff is sure to educate and entertain you! If you are lucky enough to have owner Jonathan Fussell lead your tour, go ahead and clear your schedule; you're sure to belly laugh at Jonathan's stories of his shenanigans growing up on a winery. 
Upon request, you might even be able to bottle your favorite label during the tour. 
2. ENJOY A WINE TASTING
Consistently ranked as one of the top wine tastings on the Grand Strand, Duplin's Deluxe Tasting allows guests to sample up to 10 wines. You'll also get a delicious sampling of crackers, cheeses and Duplin's gourmet dips. This affordable tasting includes a full pour of your choice . . . and you get to keep the wine glass!
After you're done, be sure to venture out to the spacious outdoor deck. The patio is the perfect place to kick back and relax with your loved ones, listen to live music or play some of your favorite yard games, like bocce ball. 
And don't leave in a hurry. Browse the retail store, which is full of wine and gourmet snacks, as well as wine accessories that range from practical to hilarious.
3. JOIN THE WINE CLUB
Love Duplin Wine? Join Duplin Winery's Heritage Wine Club. As a wine club member, you'll receive four shipments of Duplin wine per year (just $49 + sales tax per shipment), exclusive access to new wines prior to public release and a subscription to Heritage Magazine, which features helpful information, recipes and coupons.
You can select to pick up these quarterly shipments at the North Myrtle Beach location, which, if you ask us, sounds like a great reason to plan another visit!
Looking for more things to do on your beach vacation in North Myrtle Beach? There's no shortage of activities in North Myrtle Beach. Get inspired for your next trip today.