Along the Grand Strand and across the nation, people everywhere are finding unique ways to stay active, connect with loved ones, and enjoy the beauty of everyday life. We are inspired by the creativity and support so many are showing in the face of a challenge. 
From enjoying some alone time outdoors to supporting local businesses offering modified services, the people of North Myrtle Beach and beyond are committed to getting through this, together. While we may be spending more time apart, we're united by our love for our community. We wanted to share a few of the ways we have seen people exploring North Myrtle Beach while adapting to new social norms:
Rise with the Sun
Even when a lot of things seem to be changing, you can count on the sun to rise every morning. With miles of coastline, piers and docks galore, and plenty of balconies to watch from, North Myrtle Beach is the ideal spot to enjoy a sunrise. Getting up early will help you feel productive throughout the day, and the sun peaking over the water creates a painted sky you won't forget. 
For a playlist to listen to from sunrise to sunset, check out the 'We Love Beach Music' playlist we made just for North Myrtle Beach! It's perfect for relaxing, taking in the sights, or dancing the Carolina Shag. 
Run With the Waves
Many people are reconnecting with the natural beauty of the great outdoors while many indoor places, like gyms, are temporarily closed. The sand of the beach provides a great place for a run with a low-impact surface.  
If running isn't for you, take your relaxing yoga flow or high-intensity interval session to the sand. Staying active is important while other aspects of our daily routines have been put on hold. 
Don't forget—your furry friends can enjoy the beach, too! Dogs (on leashes) are allowed on the sands of North Myrtle Beach. 
If you do visit our beach, be sure to follow the current group size regulations and listen to the requests of all local and state officials.  
Love on Local Businesses
As a community powered by local businesses, we are proud of the incredible dining, shopping and entertainment unique to North Myrtle Beach. Many businesses have had to make big changes to their everyday operations, and we love seeing customers adapting to support them. We encourage everyone to show some love to our local restaurants and shops! Pick up meals and shop on social media—many restaurants and stores are offering curbside pick-up and delivery options!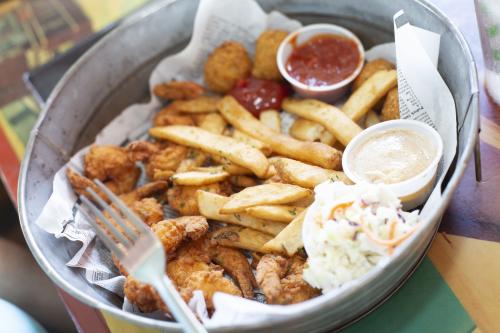 For a list of local places to eat and shop, along with info on how to support them, visit this webpage.  
We're proud of local businesses who have reworked their business to meet the needs of our community. Twelve 33 Distillery is producing hand sanitizer for first responders at no cost and is making certain quantities available to the general public. Keep an eye on their Instagram or Facebook page for updates and info on how to pick some up (we also recommend picking up a bottle of their locally-sourced craft spirits while you're there!) 
Bring the Vacation to You
A lot of time on vacation is spent connecting with the ones you love. Even if you can't travel, there's so much you can do to create fun memories during this quality time at home. 
Exercise your mind by playing board games or completing puzzles. Learn about the sea life on a virtual tour of one of the area's most popular attractions, Ripley's Aquarium. Or quiz each other on the history of North Myrtle Beach or our state symbols.  
For foodie families, challenge your family to a cookoff of some classic South Carolina recipes.   
Get creative, stay tuned to our social media pages for inspiration, and have fun! We can't wait to see how you come together during this time of social distancing.