When the sun goes down, North Myrtle Beach's nightlife heats up! We've put together a list of the North Myrtle Beach area's hottest bars, dance clubs and music venues locals and visitors tell us they love to visit after dark.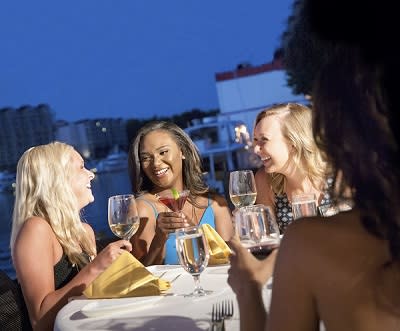 Located in the heart of North Myrtle Beach, Pirate's Cove Bar & Grill isn't just a music venue, dance club or beach bar . . . it's all three! Featuring an indoor stage, spacious dance floor, rooftop bar, ocean views and a constant lineup of popular musical acts, Pirate's Cove is a one-of-a-kind hangout for locals and visitors alike.  
Spanish Galleon is one of the hottest nightclubs in North Myrtle Beach. Located in the Ocean Drive Beach & Golf Resort, Spanish Galleon always has a DJ spinning a variety of popular dance music, including hip-hop, house and dubstep.
In Little River, North Myrtle Beach's one-of-a-kind fishing neighborhood, you'll find a welcoming dive bar called Key West Crazy. With live music every night and a spectacular view of the waterway, Key West Crazy promises fresh seafood, strong drinks and good times.
North Myrtle Beach is home to a nighttime tradition from yesteryear, the Shag. First made popular in the 1940s, North Myrtle Beach is known as the birthplace of this dance.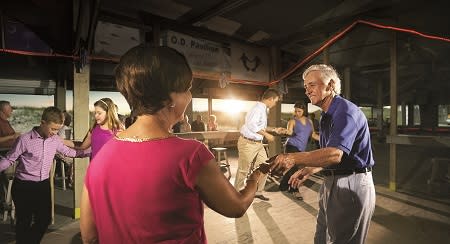 On Ocean Drive, you'll find people of all generations still dancing the Shag in many of the same bars and clubs where it originated, like Fat Harold's Beach Club, OD Arcade & Lounge and OD Beach Club.
If you're looking for something family-friendly, don't worry, because North Myrtle Beach offers plenty of fun for adults and kids! After dinner, catch a show at Alabama Theatre or The Carolina Opry. Alabama Theatre, located at Barefoot Landing, is home to ONE The Show, which combines world-class talent, music loved by every generation and laugh-until-you-cry comedy. The Carolina Opry offers several unique and thrilling shows and has become an annual tradition for many families visiting North Myrtle Beach year after year.
Don't miss out on a moment of the fun—go ahead and book your next trip today! While you're planning your vacation, be sure to sign up for our email to get exciting news, upcoming events and North Myrtle Beach's best deals right to your inbox.