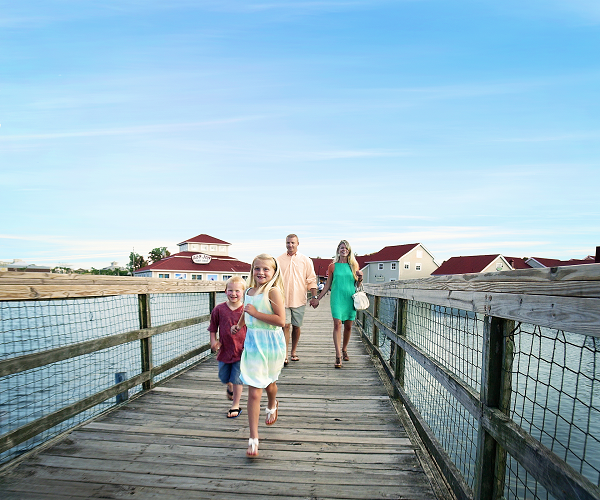 Looking to take a much-needed family beach vacation this spring? Once you've booked the perfect beachfront condo, spacious house, all-inclusive resort or conveniently-located hotel, you might be asking yourself "what will we do once we get there?"
In North Myrtle Beach, not only can your family enjoy beautiful, wide beaches, you'll also have easy access to surprising adventures, thrilling attractions and delicious dining.
Below are 7 North Myrtle Beach spring break ideas for families that will help you plan the perfect kid-friendly vacation.
1. EXPERIENCE THE UNEXPECTED:
There are plenty of things to do in North Myrtle Beach on spring break. If you have teens who enjoy watersports, check out Shark Wake Park, open from April to mid-October. At this watersports park, novice to expert wakeboarders are pulled on the water from a cable, not a boat. But don't worry, Mom, it's a great (and safe!) way to learn how to wakeboard. There are also challenging obstacles for more advanced riders.
Or, if you're looking for a more relaxed adventure, take your family horseback riding on the beach at Inlet Point Plantation. A helpful guide will lead your group through sand and surf on undeveloped Waites Island, one of the few places you can horseback on the beach year-round. Reservations are required, so be sure to book in advance.
2. ENJOY THE BEACH (AND THE VIEW):
North Myrtle Beach is home to some of the widest beaches on the Grand Strand. Many of our accommodations are oceanfront, making it easy to have a spontaneous seashell scavenger hunt or sandcastle building contest.
Be sure to take the family to Cherry Grove Pier, one of the most iconic spots in North Myrtle Beach, where you can cast a line or just enjoy the view. Want a preview? Check out our live Cherry Grove Pier webcam.
3. CREATE FRIENDLY COMPETITION:
Families visiting North Myrtle Beach love trying out the many miniature golf courses in the area, which feature everything from jungles and ship-wrecked pirates to ancient ruins. Practice your putting skills at Mayday Golf, where you can choose from two kid-friendly courses. Once you've worked up an appetite, head down the street to BurgerFi, and enjoy a custom-built burger or hot dog.
4. COME HUNGRY AND LEAVE HAPPY:
North Myrtle Beach is a foodie's paradise. With a wide variety of dining options, ranging from fresh seafood to traditional Southern cooking and fine dining to casual, there's more than enough places that'll satisfy every appetite. Even better, a number of these places to eat are kid-friendly.
Mom and Dad, if you're lucky enough to swing a date night, here are some suggestions for a scenic dinner.
5. CATCH A SHOW OR AN EXHIBIT:
North Myrtle Beach is home to a number of incredible theatres that feature award-winning shows. Take the family to Alabama Theatre, featuring ONE The Show, a hilarious family comedy with nearly every music genre ever known. If you have little ones who love high-seas adventures, Pirates Voyage is an exciting dinner and show that tells the tale of the adventures of Captain Blackbeard and his motley crew. You're sure to be mesmerized by world-class performers at the Carolina Opry's signature show, which is jam-packed with high-energy music, comedy and dance.
Looking for a fun and family-friendly indoor activity? Visit the North Myrtle Beach Area Historical Museum. With exhibits and programs that range from the region's first inhabitants to the development of today's tourism industry, this is a great place to check out if you're in need of a rainy day activity.
6. APPRECIATE NATURE:
Alligator Adventure is one of the area's top kid-friendly attractions. Home to hundreds of alligators, crocodiles and other rare reptiles, guests can get closer to these animals than ever before by watching regular feedings or exciting shows.
If you're looking for something a little tamer, escape into nature by visiting one of North Myrtle Beach's many parks. With 7 acres of walking paths, a trip to Heritage Shores Nature Preserve is inspirational and educational. Informative signage will tell you about the wildlife you see in the park, which extends into the Cherry Grove Marsh.
7. GET OUT ON THE WATER:
Does your family love to be in (or around the water) on vacation? In North Myrtle Beach, not only do you have easy access nine miles of beach, but you can also explore scenic inlets and picturesque waterways. Locals and visitors agree that these are best explored by boat, paddleboard or kayak.
For an unforgettable adventure, take the kids on a sightseeing dolphin cruise. Or let your favorite first mate hunt for buried treasure aboard Blackbeard's Pirate Cruise, which departs from nearby Little River.
Is your family full of adrenaline junkies? Spend an afternoon riding jet skis through the wake or parasailing above the ocean.
Whatever you're looking for, North Myrtle Beach will make your family's spring break vacation one to remember. While you are here, be sure to share your photos on social media using #JustCoast and #ExploreNMB. We'll see you soon!