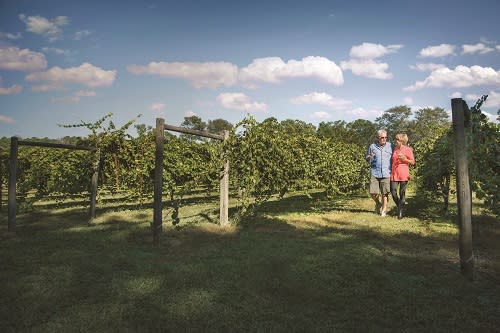 Are you a wine lover? La Belle Amie is an adorable vineyard located in Little River. It's a wonderful spot to bring friends and relax for the afternoon. After all, La Belle Amie means, "the good friend" in the European origin.
Guests are invited into the wine tasting rooms upon arrival.The wine tasting allows guests to try samples of private label wines and delicious foods. The wine tastings are reasonably priced and include six different wines, and you can keep the glass. During the tasting, the staff is knowledgeable and friendly, explaining the delicate process of making and bottling wine. Once your wine tasting is complete, journey out to the vineyard. Explore the beautiful property and learn more about the history of the former plantation. 
Before you leave, step inside the gift shop area and find some unique collections. The shop has wine racks, casters, wine glasses, corkscrews, salsas, cooking oils and more. It's the perfect place to buy a gift for that special someone at home...or treat yourself to a bottle (or two) your new favorite label. 
The vineyard also hosts great festivals on a regular basis where guests can taste a variety of wines, enjoy delicious food and listen to live music. Check their website regularly for the events taking place at the vineyard. 
La Belle Amie Vineyard |1120 St Joseph Rd, Little River, SC 29566 | 843-399-9463