North Myrtle Beach is the perfect place to spend your Labor Day weekend, with endless activities that will keep the whole family entertained. From fireworks and live music to adrenaline-filled adventures, there are countless ways to celebrate the holiday and enjoy your much-deserved break from work or school.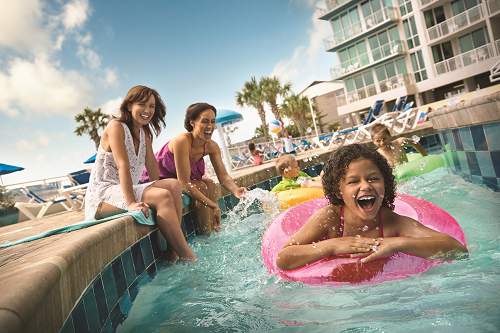 Make the most of your Labor Day weekend trip to North Myrtle Beach with these fun activities!
Witness a Spectacular Fireworks Display
Stars aren't the only things filling the night sky this Labor Day weekend. Head over to Barefoot Landing at 10 p.m. on Saturday, September 1, to watch the epic finale to their summer firework series. Watch in awe as an array of electric colors dance across the night sky and dazzle the audience below. There's no better way to celebrate Labor Day than with this free eye-popping fireworks display!
Head to the Beach
One of the best things to do on Labor Day is to kick back on the beach and soak in the rays. Relax in a beach chair or enjoy some friendly competition with some kid-friendly beach games. When you're ready to cool down, head to the water and splash around in the surf or try one of the many water sports that can be found in North Myrtle Beach. If you're seeking a thrill, parasailing is the perfect activity for you. Soar over the ocean and experience North Myrtle Beach from an entirely different perspective. If you want to create a memorable experience with friends or family, make a reservation with Aloha Watersports; they offer two-person and three-person flights.
Soar Through the Treetops
In search of another adrenaline rush? Take an epic journey through the treetops! There's no better way to get your blood pumping than with a zip line excursion into North Myrtle Beach's natural beauty. At Go Ape Zip Line & Treetop Adventure you'll get to do just that with a 2 to 3-hour aerial journey that will take you through the forest canopy and over a pristine lake. If you're feeling brave, try their obstacle course in the sky. Just remember . . . don't look down!
Listen to Live Music
The air in North Myrtle Beach is always buzzing with the sweet sound of music, and Labor Day weekend is no exception. Kick off the weekend with Music on Main and the Tim Clark Band on August 30 at 7 p.m. Bring a beach chair and let their smooth sound wash over you. If your toes start tapping, don't be afraid to get up and give the Carolina Shag, our state dance, a try! On Labor Day, Backfire Acoustic will be performing at the summer finale of SummerFest! at Barefoot Landing. From 12 to 4 p.m., take part in one of the best Labor Day events for music lovers, also offering face painting and more fun for the whole family! While you're there, make sure you explore all that Barefoot Landing has to offer—with over 100 acres,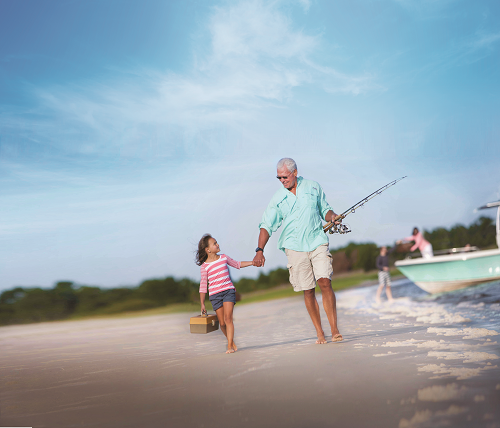 there's a lot to do! Browse the charming retail stores to find the perfect souvenir and then grab a bite to eat at one of the many delicious dining options, like Lucy Buffett's LuLu's North Myrtle Beach or Greg Norman Australian Grille.
Cast a Line
The approaching fall weather sends fish running, making Labor Day weekend one of the best times to fish in North Myrtle Beach. Head to the iconic Cherry Grove Fishing Pier and see who can reel in the biggest catch! A local favorite spot to cast from, several record-setting catches have been made at this pier, including a 1,780-pound Tiger Shark. The Tackle and Gift Shop has everything you'll need for a fun day of fishing, from rods and bait to yummy snacks. If you prefer to cast your line off a boat, there are plenty of offshore and deep-sea fishing charters to take you out on the open water. Mahi-mahi, King Mackerel, Swordfish and Tuna are just some of the delicious fish you could catch on your trip.
Eat to Your Heart's Content
With all the activity and excitement of the weekend, you'll definitely want to fuel up with some of the best food on the Grand Strand. With thousands of restaurants to choose from you can try something new every day, from fresh seafood and mouthwatering steak to traditional Southern barbeque. For a homecooked Southern meal, head to The Kitchen Table off Highway 17 S. You'll not only enjoy the incredible scratch-made food, but the picturesque views of the surrounding marsh as well. Duffy Street Seafood Shack is a local favorite, famous for its massive seafood platters and easy-going atmosphere (they even let you throw your peanut shells on the ground!). After feasting on seafood, indulge in an array of delicious desserts, like their deep-fried apple pie. After all, you are celebrating your extended weekend!
Now that you've got a full roster of fun activities for Labor Day weekend in North Myrtle Beach, start planning your trip today by booking a charming beach house, spacious condo or a room at a convenient resort!