Want to see your kids happy as clams at the beach? Look no further than North Myrtle Beach, where your kids are bound to have a vacation they will never forget. The area is full of kid-friendly activities that will keep them entertained and delighted for hours on end. After a vacation in North Myrtle Beach, they'll be begging to come back!
The Ultimate Playground
North Myrtle Beach's gentle waves are the perfect introduction to the ocean for kids. As the tide rolls out, shallow pools are left behind, perfect for splashing, spying small sea creatures and making momentary creations with wet sand. There's also plenty of room on the expansive low-tide beaches for flying kites and beach games.
Fuel Up
Home to plenty of kid-friendly restaurants, there's no shortage of options to fuel up for a fun-filled day. Start with a hearty breakfast at Hoskins Restaurant! Hoskins is known for some of best breakfast food in town, including huge pancake stacks drizzled in warm syrup, mouthwatering biscuits served right out the oven and their famous pimento cheese grits.
If you'd prefer to cook in the comfort of your kitchen at your beach home or condo, stock up on goodies at Boulineaus Foods located in beautiful Cherry Grove Beach. Boulineaus is the perfect one-stop shop for everything from groceries and souvenirs to beach gear for the little ones. 
Sports and Thrills
After their bellies are stuffed, take the kids to OD Pavilion Amusement Park, at the intersection of Main Street and Ocean Drive. You'll find exciting roller coasters, bumper cars and old-school arcade games that every generation will love. 
If your kids are still feeling energetic, take them to the action-packed North Myrtle Beach Park and Sports Complex. The 163-acre property offers numerous sports fields, miles of walking trails and plenty of playgrounds. There are multiple picnic areas around the park, so pack a lunch for a quick break from all the fun. Your older kids will love experiencing adventure at Go Ape, a high-flying ropes course, and Shark Wake Park, a cable wakeboarding park.
The sports complex is home to more than sports and thrills. It's also the venue of the Sounds of Summer Concert Series, which occurs one Friday night a month from June to September. Bring a beach chair or blanket and listen to family-friendly music to top off your day at the park.
Barefoot Landing
Barefoot Landing, one of the most iconic attractions in North Myrtle Beach, not only offers great shops, restaurants and music venues, but is also full of fun activities for kids. Perhaps the most exciting is Alligator Adventure—also known as the "Reptile Capital of the World"— is home to hundreds of alligators, crocodiles and other rare reptiles. You and your kids will be enchanted by the amazing prehistoric creatures that reside here, including the rare albino alligator and fierce saltwater crocs.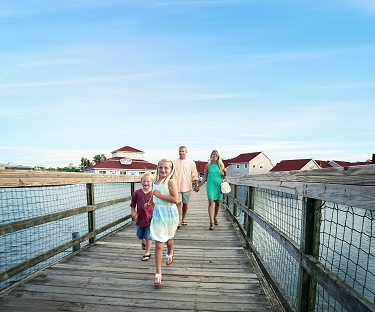 Don't miss their lunchtime for a chance to see a giant gator leap out of the water for food. Talk about a wide-eyed adventure for kids!
Overlooking the waterways of Barefoot Landing is a beautiful Barnum & Bailey-inspired carousel, complete with 41 varying animals. Kids (and adults!) will beg for ride after ride on this iconic attraction. 
Explore the Outdoors
North Myrtle Beach allows you to explore the beauty of nature in a variety of ways. Just a few feet from Cherry Grove Beach, North Myrtle Beach offers an exciting outdoor experience for little ones. Heritage Shores Nature Preserve, an island accessible by a series of boardwalks, lets you explore the beauty of the well-preserved saltwater marsh. Your kids will love spying unique birds and animals as they walk along the seven acres of walking paths, which include elevated boardwalks and observation decks.
Savor your time with the little ones at North Myrtle Beach, where the fun times are endless. Start planning your next family beach vacation at North Myrtle Beach, and sign up for our e-mail to get information on deals, events and news sent right to your inbox.