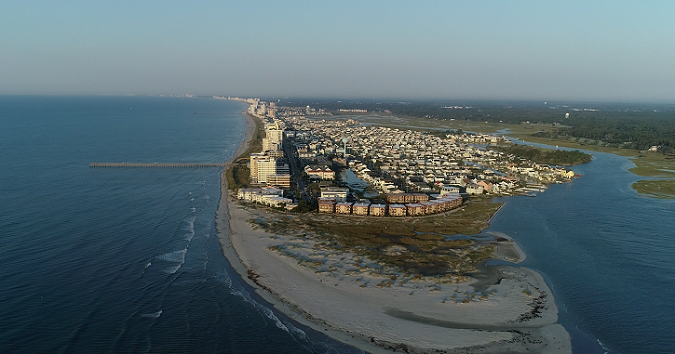 Spring will be here before you know it. When it's time for a break from work or school, it's time to escape to the beach. And, everybody wants to do something different, so choosing a destination with plenty to offer is key. Book your spring vacation to North Myrtle Beach, where just like our miles of oceanfront views, the fun just goes on and on in this family-friendly stretch of the Carolina coast. We're bursting with ideas for activities that'll make everyone happy . . . and make you the hero of spring break!
DAY 1: MAKE YOURSELF AT HOME
The chorus of "are we there yet?" doesn't last long when you choose the convenience of the Grand Strand. Once your toes hit the sand, it's easy to feel like a local here. So, start by making yourself right at home.
Whether it's a hotel or resort, beach house or condo—or maybe even a campsite—North Myrtle Beach has a variety of accommodations to suit all families, large and small. Check in, pick your beds, unpack your clothes, and get ready to explore!
The Main Course
It's your first night on vacation—skip the kitchen cleanup and treat your family to dinner on the town. From fresh, local seafood to Southern fare and international cuisine, North Myrtle Beach can cater to any palette and all ages. We recommend getting to know our community by spending your first night in the heart of North Myrtle Beach, near the vibrant intersection of Main Street and Ocean Drive.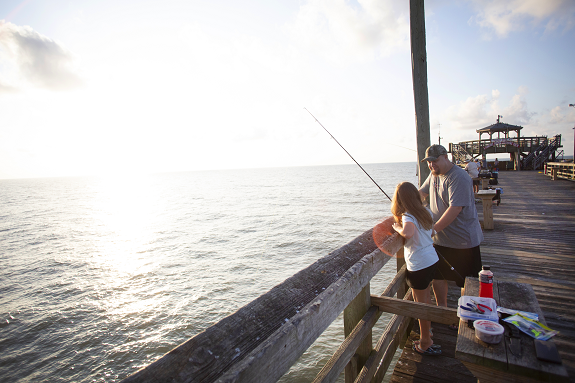 For a casual dinner, stop by Z's Kitchen for their take on home-cooked favorites, like fried rice or "wicked" mac n cheese. If you're up for something new, dine on Celtic favorites at Molly Darcy's. But, since you are at the beach, you may want to try the fresh catch of the day—served with a side of ocean views—at Buoys On The Boulevard. All of these crowd-pleasers can be combined with a stroll down Main Street, which is lined with bright lights, unique shops, and plenty of spots for a quick family photo op.
After dinner, end the night with an ice cream cone from Melt, a North Myrtle Beach staple recently named the Best Ice Cream in South Carolina by Food & Wine. Since easy access to the sand is just a few quick steps off Main Street, you can walk it off with a stroll on the beach. As the sun sets in the distance, you'll know your family is in for a great week ahead. Now, rest up . .  . tomorrow is going to be a big day!
Day 2: STRAIGHT TO THE SAND
The sun has risen on day two and it's time for the main attraction—the sand and surf. After all, the "beach" completes North Myrtle. Lucky for you, we have plenty to choose from and plenty of ways to access some of the widest beaches on the Grand Strand. The North Myrtle Beach area is home to several unique communities, each with its own personality. While they're all winners in our eyes, we have to give a special shout-out to Cherry Grove Beach, which was recently named the Best Beach in South Carolina by the readers of USA TODAY.
Possibly the most iconic part of Cherry Grove Beach is the pier, where you can watch the sun rise in the morning, fish in the afternoon, or take a quiet stroll in the evening. If you want to drop a line and reel in a catch, you'll find everything you need at the Cherry Grove Pier full-service tackle, bait, and gift shop. Pro tip: don't forget your family selfie at the end of the pier! It's one of the best places to get a shot of almost all of the North Myrtle Beach shoreline.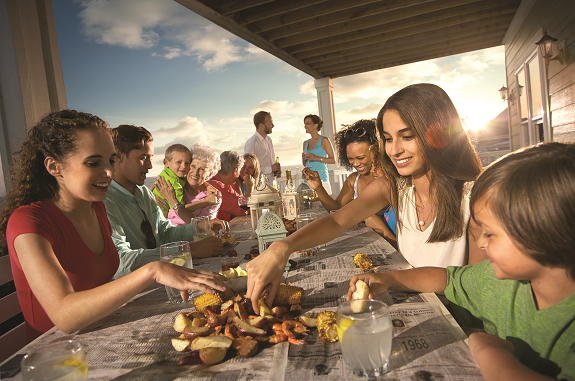 Springtime in South Carolina often boasts weather worthy of sunbathing and a dip in the ocean, but there's plenty to enjoy on the beach even before it's warm enough to boogie board. We've already put together this handy list of the best beach games to play with your family. When it's time for lunch but you're not quite ready to leave the beach, we'd suggest grabbing a bite to eat at one of the sand-friendly restaurants along the shore, like Murphy's in Cherry Grove, Harold's on the Ocean in the Ocean Drive area, or Castaway Beach Bar & Grill in the Crescent Beach neighborhood.
Bon Appétit
If there is one thing the entire family can agree on, it's that a long day at the beach can work up quite an appetite. Once the sand is washed off and the chairs are put away, spend a night in and plan dinner at the beach house.
Choose some of South Carolina's most famous recipes to build your menu. While we suggest pimento cheese and crackers to start, Frogmore Strew as the main course, and pecan pie to finish, you really can't go wrong when you choose a Carolina classic. Head to Boulineau's, a local store that boasts more than 175,000 square feet to find all the ingredients you need.
If picking up dinner works better for you, try a pizza or two from one of our local restaurants. Two of our go-tos are Zorba's Greek Favorite from King's Famous Pizza and the "create your own" pizza bar at Benito's Brick Oven Pizza and Pasta. Put on some beach music and dance the Carolina Shag, born in North Myrtle Beach in the 1940s and now honored as our state dance. If you don't know the steps, there are dozens of nearby spots where you can learn how to Shag.
DAY 3: WAKE UP TO WONDER
After stopping by a local favorite for breakfast (if you have picky eaters, Plantation Pancake House has 71 signature omelets), take the family to one of many kid-friendly attractions in North Myrtle Beach. This is the perfect time to give the family a quick break from the sun, while enjoying an experience that is both fun and educational.
Ripley's Aquarium in nearby Myrtle Beach is open from 9 a.m. to 7 p.m. every day and caters to all ages and interests. At this 87,000-square-foot attraction, your family can see everything from jellyfish and frogs to sharks and fish that thrive in different reef settings.
Be sure to make a stop at the Stingray Experience to get up close and personal with spotted eagle rays and crownrose rays. You can even meet the aquarium's polar residents at the Penguin Encounter or see the sirens of the sea live at the Mermaid Show. Check the Ripley's Aquarium calendar for even more fun shows.
Feel the Beat
If live music speaks to your family, there is no shortage of places to experience live entertainment in North Myrtle Beach. Alabama Theatre is celebrating more than 25 years of delighting visitors with the sounds of everything from classic country to Broadway's smash hits. The Carolina Opry was named the "Top Attraction in Myrtle Beach" by CNBC and features a cast of more than 35 performers. With a unique show each year, the Opry is sure to delight with its variety of music, dancing, and more.
DAY 4: DIVE IN, THE WATER'S FINE
The second half of your vacation has arrived and it's time to jump in headfirst—literally. After all, what's a trip to the beach without spending some time on (or in) the water? Rent Jet Skis or a boat to take your family out for a day of fun.
Let the kids use some energy by surfing or paddleboarding in North Myrtle Beach. If you've never tried, we have the teachers and supplies to help you learn both! Whether your family wants to chill or be thrilled by the water, we have all the information about watersports in North Myrtle Beach and how to book them already compiled for you.
Prepare for the day by packing a cooler for lunch with fresh, local fare from a local farmer's market to have a picnic on your adventure. Remember—no Carolina spread is complete without some boiled peanuts to munch on (in fact, they're our state snack!). 
It's Showtime!
Have you ever watched pirates walk the plank and mermaids dive to the depths of the ocean while you feast on roasted chicken and fresh apple pie? Believe it or not, your family can see all of that and more at Pirates Voyage Dinner & Show.
This one-of-a-kind immersive experience tells the story of Blackbeard, a pirate infamous for plundering the Carolina coast. You'll see everything from tropical birds to high-flying acrobatics during this dinner to remember.
Life is Sweet
End the night on a sweet note by grabbing one last local treat to enjoy while everyone shares their favorite part of the show. Wee-R-Sweetz on Main Street is home to everything from fudge and gourmet apples to popcorn and cookies. Don't forget to try some saltwater taffy, a Carolina classic that will really stick with you.
DAY 5: THE MAIN EVENT
One of the most exciting things about visiting North Myrtle Beach is the jam-packed calendar of events to celebrate holidays throughout the year. Two of the biggest dates each spring are St. Patrick's Day and Easter, and North Myrtle Beach has you all set to celebrate these two occasions with plenty of fanfare.
The 32nd Annual St. Patrick's Day Parade & Festival will take place in the Main Street area on Saturday, March 14, 2020. A local favorite and community staple, this event will provide family fun that will make others green with envy. Be sure to get an early start and grab your spot on the parade route! The parade begins just before 9 a.m. on Ocean Boulevard. After you see the impressive floats roll by, stroll down Main Street to see the local fare and garb from 100+ vendors. There will be plenty to see and eat, so plan on staying a while. If you're lucky enough to have your vacation over this special date, the St. Patrick's Day festivities are sure to be the pot of gold at the end of your trip!
Plan on visiting North Myrtle Beach over Easter weekend to take part in the annual Easter Egg Hunt! Even the Easter Bunny will hop into town to help families celebrate in McLean Park on Saturday, April 11. The big hunt begins at 10 a.m., so don't be late! The egg hunt is divided by age range and there are lots of other activities to entertain your whole group. If you want to attend an Easter service, there are plenty of local churches that would love to have you visit.
Head to the North Myrtle Beach calendar to plan your spring trip around the event that your family will love.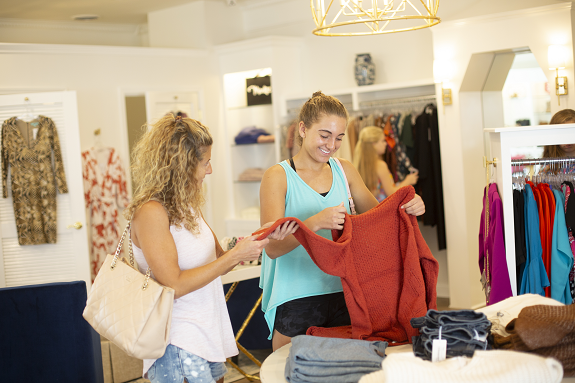 A Meal Worthy of Praise
Make your last meal of your vacation is one to remember, with a price you can't forget. House of Blues is an iconic North Myrtle Beach restaurant, bar, and music venue. Their large dining room and expansive menu have the space and options to please the whole family. Each Sunday, House of Blues hosts its "World Famous" Gospel Brunch. This all-you-can-eat Southern buffet is served up alongside live music beginning at 9 a.m. Here's something to really praise: kids under four eat free!
Before You Go
After five days in North Myrtle Beach, we are sure you will have made plenty of family memories to last for years to come. While nothing can top the value of those memories, be sure to find some souvenirs to remember your trip or take back to others. North Myrtle Beach is full of places to shop, so you are sure to find something for everyone!
Tell us about your family's spring getaway in North Myrtle Beach by sharing your photos on Instagram, Twitter, or Facebook. Sign up for our newsletter and never miss out on everything you need to know about North Myrtle Beach!