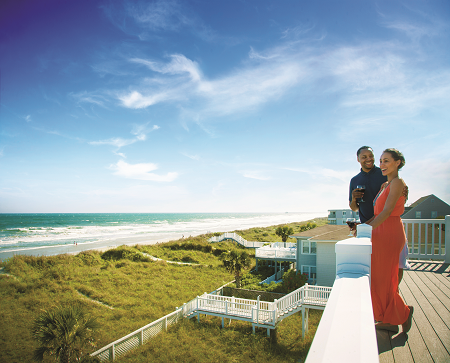 Taking a trip with the kids in tow doesn't mean that you have to throw romance completely out the window. Finding time for just you and your sweetheart is actually very doable if you plan accordingly. Follow these simple tips and you'll be well on your way to a romantic family getaway in no time.
First things first, make sure you choose a romantic destination that offers plenty to keep the kids occupied. North Myrtle Beach has adventurous activities that the kids can enjoy, so you and your loved one can steal away a few quiet moments alone.
Next, make sure you set yourself up for success. Book a suite with adjoining rooms or, better yet, rent a beach house that gives you plenty of space to spread out and put some space between you and your little ones. North Myrtle Beach has a huge variety of oceanfront beach homes to accommodate any needs you might have—with plenty of room for the whole family.
One huge benefit of renting is that you don't even have to leave the house to enjoy a bit of romance. Once the kids crash in their rooms for the night, snuggle up on the couch with a bottle of wine and enjoy some much-needed alone time.
Another benefit of renting a home away from home is that you can make it a family affair. Invite your siblings with kids or your parents and make a plan to alternate babysitting duties. That way the kids are able to spend some quality time with their aunts, uncles or grandparents, and you're able to enjoy a night on the town sans kids.
Lastly, remember that sometimes it's the thought that counts. Even if you're not able to steal away from the kids on your getaway, leave little gifts for your significant other so they know you care. Have a bottle of champagne and flowers waiting upon your arrival, or simply make it a point to hold their hand every chance you get. It is often the smallest gestures that speak the loudest.
Even if you have the entire extended family with you, it's easy to reconnect with your significant other when your toes are in the sand and you're listening to the waves roll in at sunset – and since we have nine miles of the widest beaches right here in North Myrtle Beach, you'll be sure to find plenty of romantic escapes.
Check out our Stay page for the best Grand Strand vacation rentals, including oceanfront condos, beachfront hotels, luxury rentals and so much more!