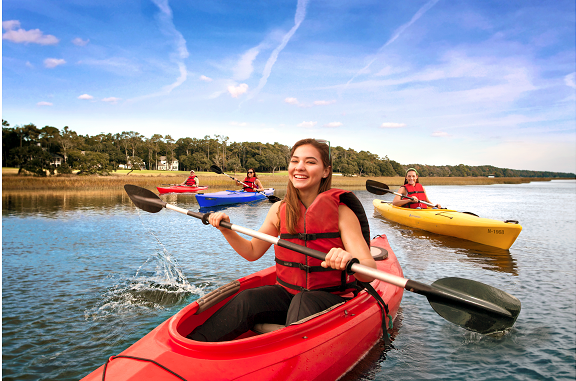 One of the most common New Years resolutions that people make is to get more exercise and get into better shape. Our suggestion? Trade in your time in an indoor gym for some outdoor, adrenaline-fueled activities. You'll not only get a chance to enjoy the beautiful, fresh air, but you will also get in a good workout—and have a blast doing it. 
Take a look at just a few of the fun, heart-pumping adventures that you can enjoy throughout the year right here in North Myrtle Beach.
Spellbinding Zip Lining
Home to some of the longest zip-lining experiences in the state and region, Go Ape is South Carolina's first Zip Line and Treetop Adventure course. Complete with 5 zip lines, 40 exciting crossings, 2 Tarzan swings and numerous rope ladders, you'll get an incredible upper-body workout, while taking in some of the best views around.
Shred at Shark Wake Park
Get ready to shred at North Myrtle Beach's Shark Wake Park. The ultimate in water sports activities, it's the only place to wakeboard without a boat on the Grand Strand! Learn how to board or go all out on the course! This is one experience that is sure to get your heart pounding.
Explore the Shores
The shores of North Myrtle Beach are home to some of the most beautiful wildlife and natural scenery around—and the only way to see it all is with a kayaking or paddle boarding tour. Take a ride through peaceful salt marshes or glide alongside Bottle Nose dolphins. Every adventure on the water is different and offers you an opportunity to get in a fun-filled, full-body workout. 
Learn more about what you can do to get out and get active this season here.