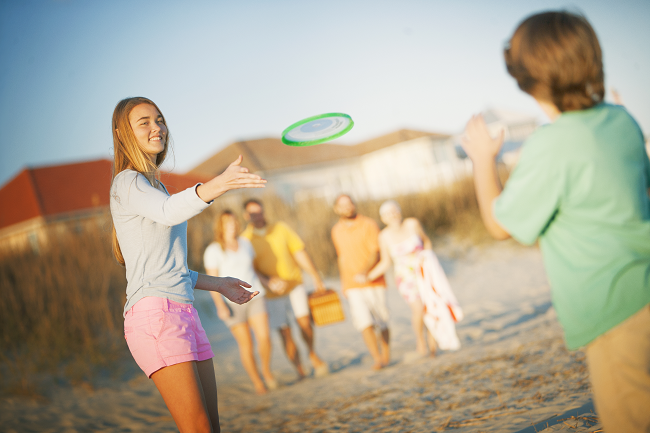 Looking for affordable spring break ideas? You don't have to spend a fortune to have a fun spring break in North Myrtle Beach. We've rounded up free things to do that will keep your family entertained and your vacation on budget:
BE ENTERTAINED AT FAMILY-FRIENDLY FESTIVITIES
In North Myrtle Beach, not only will you find nine miles of the Grand Strand's widest beaches, but you can also experience some of the area's most exciting events! From special events and live shows, festivals and parades, to sporting events, there is bound to be at least one awesome event happening during your stay in North Myrtle Beach.
If you come to visit in mid-March, you won't want to miss North Myrtle Beach's St. Patrick's Day Parade & Festival. Take your family to the children's area, complete with rides and amusements, during this annual rain or shine event.
Does your spring break take place over Easter? Each year, the Easter Bunny pays a special visit to McLean Park for North Myrtle Beach's annual Easter Egg Hunt. With areas designated for specific age groups, this egg hunt is exciting for kids of all ages.
Always check the events calendar to stay up-to-date and make sure you don't miss out on any of the North Myrtle Beach events taking place this spring!
EXPLORE PARKS AND GARDENS
Spend an afternoon at the North Myrtle Beach Park and Sports Complex. With miles and miles of scenic trails, this complex is the perfect place for a family stroll or a bike ride. Pack a picnic lunch to enjoy at one of the seven picnic shelters. Then, let your kids climb and slide on one (or all) of the park's three playgrounds. And if you brought your furry four-legged friend on your beach trip, watch them play at the Dirty Dawg Pet Wash Dog Park.
Located in the Cherry Grove neighborhood, Heritage Shores Nature Preserve is a pristine and unspoiled place for your family to learn about the area's natural wildlife. Along the seven acres of walking paths (via elevated boardwalks and observation decks), you'll find helpful signage that describes the plants, animals, fishes and birds that can be seen throughout the park.
Vereen Memorial Historical Gardens in Little River features three miles of trails. Often called the "hidden jewel" of the area, these trails are intertwined with wooden boardwalks that extend over the picturesque marches and waterways yet are accessible enough for a variety of ability levels.
Located in the heart of North Myrtle Beach is 10 acres of beautiful green space called McLean Park. With two playgrounds and a pond, McLean Park is convenient and free way for your kids to spend more time outside (and less time in front of a screen) this spring break.
LEARNING CAN BE FUN, TOO!
Every once in a while, even the best spring break is interrupted by an afternoon shower. If you're in need of an indoor activity with kids, visit one of the area's free museums. Just a short drive down Highway 17 is the Franklin G. Burroughs-Simeon B. Chapin Art Museum. This visual arts museum has a section on their website full of tips and tricks for keeping kids engaged – and entertained – during your family's visit. 
The Horry County Museum and L.W. Paul Living History Farm is another nearby free museum that will teach your family about the unique history of this area. Check the event calendar on their website when planning your visit, as they often offer special family-friendly programs.
DON'T FORGET ABOUT THE BEACH
With so many exciting things to do, don't underestimate the ultimate free activity: spending time on the beach! Our beautiful and wide beaches are the perfect spot to spread out and spend some quality time with the whole family. Throw a Frisbee with the kids or play classic beach games such as spike ball, volleyball, bocce ball and soccer. Enjoy the relaxing sound of the ocean waves as you take a stroll along the sandy beaches and maybe even collect a few seashells or sand dollars along the way.
Want to save even more on your family's spring break? Sign up for our email newsletters and get exclusive specials, deals and insider information sent straight to your inbox!