My two best friends—Rachel and Josh—and I had pulled up chairs at our favorite neighborhood bar, yet again. Our jobs had been especially demanding, but Rachel had enough. "We need a vacation, guys," she said. Josh and I looked toward her, eyebrows raised. "C'mon," she said. "Think: sandy beaches, tons of adventure, a little shopping, some entertainment. I know just the place." 
Rachel whipped out her phone to show us the Grand Strand of South Carolina, a 90-mile stretch of pristine beaches—specifically, North Myrtle Beach. "My family has gone there a ton, and last time we were there my cousins and I had the best time at one of the wineries."
In all honesty, I had been sold as soon as Rachel said, "sandy beaches." Once Josh said he was in, we had a place booked for the next weekend. I couldn't wait.
Ready to unwind
We checked in to a three-story condo (a height much more common around here, as opposed to the high-rises of other beach towns—thank goodness) just off the beach. As we looked around the small resort, it was difficult for us to decide if we would spend more time on our oceanfront balcony, dipping in the serene swimming pool or sitting on the wooden deck just above the sand dunes. But that's the kind of challenge we welcomed.
No sooner had we unpacked than we were on the way toward our first adventure. We took a peaceful drive on a winding sandy road to Inlet Point Plantation Stables on Waties Island, where we'd be going on an oceanfront horseback ride. Within minutes of arriving, the staff had paired us with horses, which we navigated toward the blue-gray ocean. Once on the deserted beach, my horse's gait seemed to match the rhythm of the waves. I don't know if it was a conscious choice of the horse or a subconscious creation of my mind, but either way it added a layer of tranquility to the experience. Those work tasks that had been so stressful seemingly washed away with each stride.  
Wine and live music at a local vineyard
The sun was still high in the sky post-ride, so we had time to visit the locally owned La Belle Amie Vineyard (the one Rachel had previously visited with her cousins). We could hear live music in the air as soon as we stepped out of our car. As we walked to the entrance, we saw people with the biggest smiles on their faces, each with a wine glass in hand. Soon after walking in, the owner of the vineyard, Vicki, had introduced herself and whisked us away to the tasting bar where Rachel, Josh and I spent the next hour sampling La Belle Amie's wines and hearing stories from fellow travelers. "The mood at this bar is a little different from the one back home, isn't it?" Josh said with a smile. He was right, in the best way.
Learning about the Carolina Shag
As sunset approached, we turned toward food and entertainment. One question from a local at La Belle Amie had been on my mind since she asked: "Are you planning to dance the shag while you're here?" I'd heard of the shag, but I had no idea that North Myrtle Beach was such a hotbed for it. "Have you ever shag danced before, Rachel?" I asked, thinking she might have learned on a past visit. "Nope, but I think we're in the best place to give it a try!"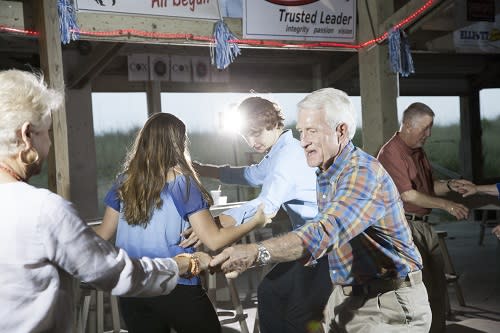 We went to Fat Harold's Beach Club, located on Main Street near Ocean Drive. The entrance was built like a giant neon jukebox and I could hear the music from the parking lot. Inside, we found a large bar with an elevated view of a wooden dance floor. The floor was packed with couples of all ages dancing to the rhythm of the beach music. We could tell the locals were proud of this dance and, lucky for us, they were eager to teach us. Josh, surprisingly, picked up the moves fast! I'd say that I'm a quick learner, but I'm just glad no video exists of this particular moment—that we know of, at least. Rachel, Josh and I spent hours that evening living like locals—and, admittedly, laughing at my moves. We also enjoyed some good food and a few drinks before sauntering back to our condo on the wide, quiet sidewalks along Ocean Drive.
Another glass and shopping bags
The next morning, Josh was the one to suggest an adventure. Since we had such a wonderful time at La Belle Amie Winery, we thought we should visit Duplin Winery, too. "Welcome to the Winery of the South," read the large letters above the entrance. After paying a mere five bucks each, we sat in a comfortable stool at the nice wooden bar and began sampling Duplin Winery's wines. It was a perfect way to enjoy an early afternoon. We browsed through the large gift shop and laughed at some of the quirky gifts like soap made from wine. It would certainly make my morning showers less monotonous!
We next headed to Barefoot Landing, a sprawling shopping center built around a beautiful lake adjacent to the inland waterway and the Barefoot Marina. We found everything from clothing to jewelry and artwork to unique souvenirs. Before we knew it, we had bought a few Christmas gifts.
Burgers and bocce ball
Rachel was the one who picked where to go for dinner, leading with an interesting question: "How do you feel about burgers, bocce, beer and bowling?" This turned out to be the slogan for 710 North Myrtle Beach, an entertainment venue with a full restaurant, bar, bowling alley and game pit. We enjoyed a tasty burger before hopping into a land to bowl a few games. What I had lacked in shag dance skills, I made up for here, totally dominating the scoreboard. We had enjoyed a burger, beer and bowling, so we simply could not leave without giving bocce a try—plus, Rachel and Josh were looking for redemption after bowling. The game was intense, with our scores neck and neck. We called it a night only because we couldn't find one of the balls after I threw it down the faux grass, which Josh referred to as "a total ploy!"
Casual elegance
With the town wrapped in the darkness of night, we headed over to the Alabama Theatre. The grand chandelier in the lobby, plush carpeting and massive pillars gave the theater a grandiose feel, and yet we felt perfectly comfortable wearing shorts and flip-flops in this laidback Southern town. Our comfortable chairs made it easy to enjoy the glamour and glitz of the musical we came to watch, as actors sang and danced across the stage. By the end of the night, the stresses from the past few weeks at work felt so far away.
We still had some pep in our step after the show, so it was decided that we couldn't visit North Myrtle Beach without checking out the House of Blues. We splurged and got a table on the second level with a fantastic view of that evening's concert. We sat back with a couple of drinks as the music filled the venue, which was packed with people who—like us—seemed to be in an excellent mood.
Relaxed and rejuvenated
Ears still energized from the thumping of the music and our bellies full from a delicious burger, we took our last drive along Ocean Drive back to the condo. There was never much traffic, making the drive quick and easy. We spent our last evening enjoying the view from our third-story balcony, listening to the waves on the beach through the darkness.
Our much-needed getaway was peaceful and rejuvenating. It was exactly what Rachel, Josh and I needed and, on that balcony, I felt like a brand new person who was ready to conquer the world again. I think the next time our group hits the bar back home, we'll be in much brighter spirits. And if things start to get rough, we all now know where to go.
Book your stay in North Myrtle Beach to enjoy the weekend from sunup to sundown.
By Jason Barnette