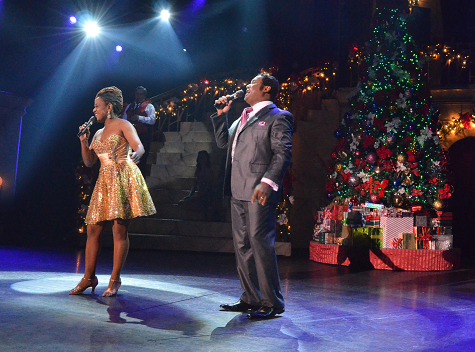 Looking to warm up this holiday season? Now is the perfect time to start planning a holiday vacation to the beach! Every year, you can find festive events to help get you and yours in the holiday spirit all over the Grand Strand. Here are some of our favorite events happening between now and the new year. Bring on the Christmas spirit!
THE SOUTH'S GRANDEST CHRISTMAS SHOW AT ALABAMA THEATRE: NOVEMBER 1 – DECEMBER 31
The South's Grandest Christmas Show at Alabama Theatre is an annual celebration featuring a combination of traditional Christmas songs, contemporary holiday favorites and hilarious comedy that's sure to entertain you. This show sells out quickly—it's a favorite for both visitors and locals—so be sure to book soon! For information on tickets, specials and discounts and group packages, visit their website.
THE CAROLINA OPRY CHRISTMAS SPECIAL: NOVEMBER 1 – JANUARY 5
Every year, the Christmas Special at The Carolina Opry features brand-new music, dancing and entertainment. Thirty-five of the nation's most talented vocalists, musicians and comedians perform in a show that will captivate you from beginning to end. If you weren't feeling festive before, just walking into the theater's beautifully-decorated lobby will put you in the holiday spirit. To book tickets, give them a call at 800-843-6779 or visit their website.
CHRISTMAS AT PIRATES VOYAGE DINNER & SHOW: NOVEMBER 1 – JANUARY 4
Experience a high-seas tale, Christmas style! Pirates Voyage Dinner & Show is an exciting family tradition that "puts some 'Yo Ho' in your 'Ho Ho Ho!'" During this holiday special, you'll enjoy a four-course dinner while the Crimson and Emerald pirates go on a quest to seize the coveted Christmas treasure from Captain Scrooge. This show runs through the end of the year. Book your tickets on the Pirate's Voyage website before they sell out.
DASHING THROUGH THE GLOW: NOVEMBER 22
Lace up your running shoes and join us on November 22 at 7 p.m. for an exciting two-mile walk/run throughout the attraction. As a participant, you'll be among the first to see The Great Christmas Light Show at the North Myrtle Beach Park and Sports Complex, where there's something new and festive to admire with every step. One thing to note: participants are encouraged to wear holiday-themed attire, so be sure to bring along your Santa hats!
LIGHTING OF THE LANDING: NOVEMBER 23
Visit Barefoot Landing's Dockside Village on Saturday, November 23, for the Lighting of the Landing from 4 p.m. to 8 p.m. A Christmas show will start at 6 p.m., with the tree lighting and fireworks to follow at 7 p.m. While this event is the official kickoff to the holiday season at Barefoot Landing, the waterfront shopping and dining attraction has a variety of events throughout December that the whole family can enjoy, like fireworks and movies. Not to mention, it's a great place to finish up your Christmas shopping!
THE GREAT CHRISTMAS LIGHT SHOW: NOVEMBER 25 – DECEMBER 30
Visit The Great Christmas Light Show between mid-November and the end of December at the North Myrtle Beach Park & Sports Complex. More than 2 million lights are festively displayed along a 1.5-mile drive throughout the complex. Enchanting animated figures and holiday scenes dance across 500 stunning light displays located throughout the park. Each remarkable scene has been custom made specifically for The Great Christmas Light Show, so we guarantee it's unlike anything you've ever seen before. At the end of the journey, stop by Santa's Village for delicious hot cocoa and s'mores. Of course, you can't forget to stop and see the real star of the show—Santa himself!
CITY OF NORTH MYRTLE BEACH CHRISTMAS TREE LIGHTING: DECEMBER 3
If you're in town the first week of December, join Santa and his posse at McLean Park on Tuesday, December 3 at 6 p.m. Watch the lighting of the City of North Myrtle Beach's Christmas Tree and enjoy festive Christmas activities, holiday entertainment and refreshments for children (and teens!) of all ages.
CHRISTMAS PARADE: DECEMBER 7
It truly doesn't feel like the holidays until the annual North Myrtle Beach Christmas Parade makes its way down Main Street. Both residents and vacationers look forward to this cheerful event every year. Enjoy rows of floats, marching bands and holiday lights as they make their way toward Ocean Boulevard. The parade begins at 5:30 p.m., but be sure to get there early to stake out the best spot, and take a family photo for a Christmas card that can be sent out just in time!
CHRISTMAS CANTATA: DECEMBER 7 – 8
Don't miss this spectacular annual tradition! Every year, church choirs from the North Myrtle Beach area come together to create an unforgettable musical program. This event takes place at Ocean Drive Presbyterian Church, located right in the heart of North Myrtle Beach. The event is free, but you must have tickets. You can get your Christmas Cantana tickets from the North Myrtle Beach Chamber of Commerce.
THE GRINCH'S CANDY CANE HUNT: DECEMBER 13
The Grinch is rumored to show up in North Myrtle Beach this time of year to turn every single candy cane green! Bring the family by the North Myrtle Beach Park and Sports Complex for an event on Thursday, December 13 to gather all of the candy canes before it's too late. Afterwards, the classic How the Grinch Stole Christmas movie will play in the Sandhills Bank Amphitheater. The hunt begins at 5:30 p.m., and the movie starts at 7 p.m. 
Ready to get away this holiday? Start looking for a place to stay now so you can enjoy all of the spectacular holiday events happening this year!