Has anyone ever told you, "Pics or you weren't there"? Don't worry, it's happened to the best of us, and we feel your pain. To make sure you'll never get stuck without a photo opportunity again, we've compiled this helpful (and fun) selfie tour of North Myrtle Beach. Whether your preferred platform is Instagram, Facebook, or Snapchat, turn on that front-facing camera and smile pretty—you'll want to get all of these selfie-worthy spots posted to your social media.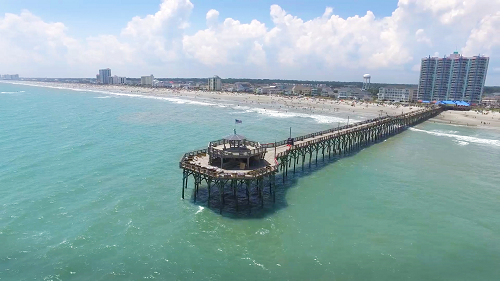 Heritage Shores Nature Preserve
There's a jaw-dropping backdrop for a selfie in every corner of the Heritage Shores Nature Preserve. Elevated boardwalks create walking paths across seven acres of marshland that's just brimming with local wildlife. If you're quick on the shutter, you might be able to catch an elegant egret or hungry pelican in the background. More adventurous selfie-takers can rent a kayak, canoe, or paddleboard nearby and snap a shot on the water that will make all of your friends jealous.
Cherry Grove Fishing Pier
A fresh-caught fish is sure to make for an exciting selfie, so grab your phone and a reel and step out on Cherry Grove Fishing Pier. (Protip: If you don't have a fishing pole, you can rent equipment for a small fee.) For the best chances at catching a fish, stop into the Tackle & Gift Shop to get some friendly advice from the fishing pros—they'll help you pick the right bait for the fish that are biting that day. If fishing isn't your thing, meander out to Cherry Grove Beach and snap a shot with the idyllic pier stretching out behind you.
La Belle Amie Vineyard
Feeling thirsty? Head over to charming Little River for some afternoon R&R at La Belle Amie Vineyard. On the way in, smile wide and snap a scenic photo near the rustic tobacco barn. Next, tour the sprawling vineyards and take a few photos among the sprawling grapevines, then head back to the tasting room and sip your way through a variety of delicious local wines made on site.
Fat Harold's Beach Club
If you've come to North Myrtle Beach without stopping at Fat Harold's, did you really come to North Myrtle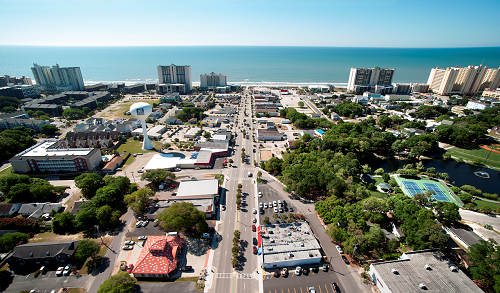 Beach at all? This is the birthplace of our state dance, the Carolina Shag, and Fat Harold's keeps these remarkable traditions alive and well. Break out your camera and become part of our state's rich history. Along the walls, you'll see plaques of shagging clubs from different towns across the country – give a shoutout to your hometown by taking a picture! Stop by on a Tuesday to grab a free Shag lesson, then snap some playful selfies with your dance partners. Bonus points for posting a selfie video!
Main Street Ocean Drive Stage
Take the stage—the Ocean Drive stage! As North Myrtle Beach's entertainment hub and event venue, you're sure to find yourself on Main Street Ocean Drive during your beach vacation. Make sure you grab a photo of this iconic stage's blue arch behind you while you're there. It's the best way to showcase your favorite vacation spot to all of your friends.
No matter where your Selfie Tour takes you, make sure to tag all of your social media posts with #JustCoast and #ExploreNMB. We're always looking for great shots to share across our social media channels. Check out the full North Myrtle Beach Selfie Tour for even more unforgettable selfie spots to add to your list!