When you're on vacation in North Myrtle Beach, you have access to some of the most beautiful beaches in South Carolina. Both visitors and locals like to take advantage of the view by sipping a cocktail while watching the waves roll in. Check out a few of the waterfront bars they tell us they love.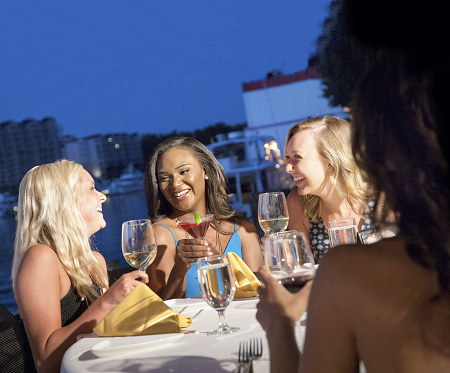 OFF MAIN STREET:
MOLLY DARCY'S: Molly Darcy's is an oceanfront bar with an Irish twist. This cozy pub sits right on the beach, so be sure to enjoy your cocktail (or Guinness) on the oceanfront patio. If you're hungry, Molly Darcy's menu includes wings, burgers and nachos—or you can try some of their traditional Irish fare.
BUOYS ON THE BOULEVARD: Perfectly nestled between Ocean Drive and the beach, Buoys on the Boulevard is the place to go when you're craving a fruity drink. They have just about every flavor of daiquiri, colada or margarita you can imagine. This local favorite is a fun spot to enjoy drinks near the beach.
IN BAREFOOT LANDING:
LUCY BUFFETT'S LULU'S: Looking for cold drinks, good times and a stunning waterfront view? Look no further than Lucy Buffett's Lulu's! This bright and colorful restaurant is all about celebrating food and fun—so of course, you'll find a large bar with plenty of space! Try the famous Bushwacker, a frozen vanilla-coffee-coconut delicacy made popular by the beach towns along the Gulf Coast.
TACO MUNDO KITCHEN Y CANTINA: It's always 5 o'clock at Taco Mundo Kitchen Y Cantina! Taco Mundo offers a large selection of creative cocktails, signature margaritas and an assortment of tequilas. Sip on a frozen daiquiri at the outdoor bar and take in a beautiful view of the Intracoastal Waterway. If you get hungry, try the Appetizer Trio: a plate full of homemade pico de gallo, chile con queso and guacamole, served with fresh tortilla chips.
GREG NORMAN AUSTRALIAN GRILLE: Searching for a laid-back happy hour? Go down under to Greg Norman Australian Grille. Owned and frequently visited by the golf legend, this restaurant is known for its fine food and views of Barefoot Marina, but in the bar area—fittingly called "the Shark Pub"—you can find an extensive happy hour menu.
AROUND TOWN:
LOCAL BAR + KITCHEN: Take your #GoldenHour Instagram post to a whole new level with a cocktail at Local On The Water. The expansive patio, lit by charming strings of lights, is a modern and relaxing place to gather to eat, drink and catch up with friends. 
FILET'S ON THE WATER: For a view of the harbor that can't be beat, visit Filet's on the Water. Here, you'll find a relaxed vibe at the tiki bar, plus a full menu of steak, seafood and sushi. This bar has live music every night, so bring a partner and try out The Carolina Shag, a dance that has its roots right here in North Myrtle Beach.
JOE'S BAR & GRILL: Don't miss happy hour at Joe's, located in the Windy Hill neighborhood of North Myrtle Beach. We'll let you in on a best-kept secret . . . ask to sit on the Raccoon Cove Deck Bar, where you can catch a spectacular view of the sun fading over the salt marsh.
KEY WEST CRAZY: A quick 10-minute drive from Barefoot Landing is Little River, a quaint fishing village that stretches along the waterway. Little River offers some of the area's best waterfront watering holes, including Key West Crazy. This island-inspired spot offers live music every night of the week. And if you're hoping to indulge in a bit of the hair of the dog that bit you (happens to the best of us), give its famous Bloody Mary a try.
While you're here, don't forget to capture the moment and the view. Share your photos of you (or your favorite drink) using #ExploreNMB or #JustCoast. We'd love to see them!