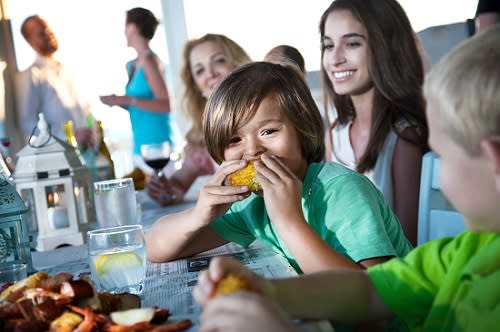 With so many delicious options in North Myrtle Beach, it can be hard to decide where to eat. Whether you are craving fresh seafood, traditional Southern cooking or simply a pizza, everyone knows the best places to eat (and drink) on vacation are those loved by the locals. To help you, we've put together this list of nearby restaurants often frequented by locals:
Molly Darcy's Irish Pub & Grill
An oceanfront bar with an Irish twist, Molly Darcy's is the place to enjoy the beach view with friends and family. In addition to delicious Celtic-inspired fare, Molly Darcy's offers a large selection of Irish whiskeys, craft beers and cocktails. Molly Darcy's often has fun and unique events like line dancing lessons, live music and karaoke, so be sure to visit the events section of their website to make the most of your visit. 
Tidewater Grill
With entrées affectionately named after local landmarks, Tidewater Grill is a favorite of many on the Grand Strand. Their enormous portions will likely remind you of Sunday dinner at Grandma's house, but you'll be missing out if you don't save room for their Delectable Dessert of the Day!
If you like to dine "al fresco," be sure to grab a seat on their patio.
Benito's Brick Oven Pizza and Pasta
Benito's is a family-owned, authentic Italian restaurant that prides itself on delicious handmade pizza and unique pasta dishes crafted from old family recipes. Sit at the bar and watch as your pizza is created and then placed into the piping hot wood-fired brick oven that crisps it to perfection. If you're craving Italian, Benito's is the perfect homestyle trattoria for you.
Antonio's Bar and Grill
It's hard to miss the bright and beautiful multistory establishment that is Antonio's Bar and Grill. Conveniently located on Sea Mountain Highway, Antonio's features a wide variety of delicious dishes, including Italian classics with a coastal twist, like their "Bruschetta Mahi Mahi" or "Cherry Grove Favorite" (linguine topped with assorted shellfish tossed in a sun-dried tomato and garlic sauce).
Do as the locals do and stick around for an after-dinner cocktail to enjoy the live entertainment, which is scheduled regularly throughout the summer.
The Shack
Also located on Sea Mountain Highway is The Shack. Serving up traditional Southern dishes for breakfast, lunch and dinner, your family will love visiting this local dive. For decades, The Shack has proudly served quality food at an affordable price in North Myrtle Beach's Cherry Grove neighborhood.  
Joe's Bar & Grill
Located in the Windy Hill neighborhood of North Myrtle Beach, Joe's is the perfect place to enjoy happy hour. You'll know why when you step out onto the Raccoon Cove Deck Bar at sunset, where the view over the saltwater marsh is breathtaking. The picturesque patio features a cozy fireplace to keep you warm if the night air turns chilly. With an extensive menu of seafood dishes and American classics, everyone in your group will find something they'll love at Joe's.
Whether you're craving fresh seafood, a fine steak or a casual meal, you'll find plenty of places to eat like a local in North Myrtle Beach. Share your favorite dishes on social media using #ExploreNorthMyrtleBeach or #JustCoast.
And if you'd really like to explore all the cuisine the area has to offer, check out our Foodie Tour blog. Remember, vacation is the perfect time to leave your diet in the dust!