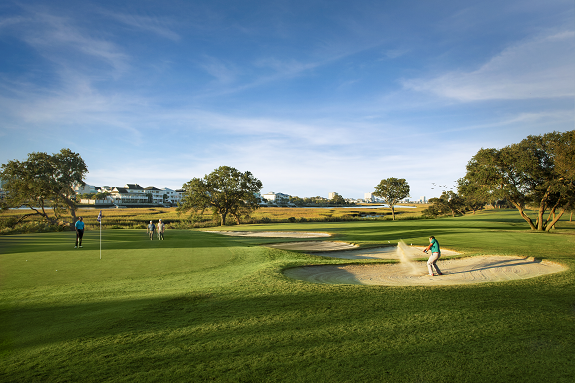 It's no secret some of the best golf experiences in the country can be found along the beautiful and windswept coast of South Carolina. With so many award-winning golf courses to play in the area, the best approach is to first choose the perfect home base. In North Myrtle Beach you'll not only find the perfect accommodations, you'll also feel the vibe of this classic southern beach town. But most importantly, you'll find close and easy access to golf, golf and more golf all year long.
Whether it's just you and a significant other or it's a group of golf buddies, you'll find the perfect place to stay in North Myrtle Beach. With a beach house or condo, you'll have the privacy of your own room but still be able to hang out together and cook at your convenience. If you prefer to stay in a full-service hotel or motel, North Myrtle Beach offers numerous choices.
For a signature golf experience, get an early tee time at Tidewater Golf Club, because you'll want to savor all 18 holes, especially the signature 13th hole which offers a beautiful panoramic view of the Atlantic Ocean and Cherry Grove Beach Inlet. But don't make that tee time too early because you'll need to fuel up on pancakes at Hoskins for breakfast. Hoskins is a North Myrtle Beach icon known for its big baskets of delicious biscuits and famous pimento cheese grits. If you aren't a morning person, don't worry. They'll leave a pot of strong coffee on your table so you can have as many refills as you need.
If you're looking for more breathtaking views, be sure to play Beachwood Golf Club. This course has been home to the Carolinas Open, the Carolina Senior PGA Championship and the Grand Strand Amateur.
If your foursome's skills vary from person to person, try Arcadian Shores Golf Club. With five tee box selections, everyone in your group will enjoy the round along with the views of the 64 natural lakes and unique bunkering throughout the course.
You could make a whole trip out of just The Barefoot Golf Courses, located in Barefoot Landing, a popular shopping, dining and entertainment attraction in the heart of North Myrtle Beach. The club includes four outstanding courses, appropriately called the Fantastic Four at Barefoot Golf Club,
including the Norman, the Love, the Fazio and the Dye. Each course is routed to offer a beautiful seaside setting.
While in Barefoot Landing, be sure to eat at Greg Norman's Australian Grille. Owned and frequently visited by the international golf legend, this restaurant is a favorite for fine food and its spectacular view overlooking the waterway at the Barefoot Marina. After dinner, catch a live show at the Alabama Theatre or House of Blues. If you've got a big group, head to the back porch at the House of Blues. There is enough room for everyone to grab a drink at the bar and enjoy live music.
With all the dining and entertainment options available, sometimes it is nice to just relax and be together. For those special occasions, grab everything you need from Boulineau's (another North Myrtle Beach institution) for a fabulous dinner in your beach house or condo. You'll find everything from fresh-caught seafood to hand-cut steaks, and all the fixin's. Then, enjoy the view from your porch and the company of your friends or family while you cook and dine at your own pace.
To start planning your golf getaway, check out the many golf courses in the North Myrtle Beach area, grab your bag and book your trip today!