North Myrtle Beach is known for nine miles of wide, beautiful beaches, delicious dockside dining, and convenient access to attractions and entertainment. But, did you know North Myrtle Beach also is a shopper's paradise? We'll clue you in on where to find the perfect souvenir—from the area's charming boutiques to nationally known stores and everything in between.
SHOP LOCAL ON MAIN STREET
At the heart of North Myrtle Beach is the intersection of Main Street Ocean Drive, home to some of the area's unique, locally owned boutiques. Judy's House of Oldies has been an institution of North Myrtle Beach since the mid-1980s. Here you can find a large collection of Carolina beach music, perfect for practicing the state dance, the Carolina Shag (which was founded in North Myrtle Beach). For ladies' apparel and accessories, along with candles and other trendy trinkets, visit family-owned and -operated Hope Taylor & Company. You're sure to find a perfect gift for the leading lady in your life (or for yourself!).
Do you love to experiment with new recipes? Visit the The Infused Olive on Main Street, where you'll find extra virgin olive oil and balsamic vinegars imported from Italy, along with a delightful variety of yummy spices, dips and mixes. And just around the corner is Vintage Violette, a quaint shop filled with art, antiques and other treasures for your home.
SNAG A DEAL AT TANGER OUTLETS
Need to shop for mom, grandpa and all your cousins? With more than 90 stores, you're sure to find something for everyone at Tanger Outlets. If you need to refuel during your shopping marathon, there are plenty of places to dine or pick up a sweet treat. And if your phone is what needs to refuel, visit one of the free and convenient mobile device charging stations in the complex.
SPEND AN AFTERNOON (AND EVENING) AT BAREFOOT LANDING
Located on a scenic waterway, Barefoot Landing is a 100-plus-acre complex full of shopping, dining and entertainment. Filled with stores that specialize in clothing, accessories, home décor, North Myrtle Beach memorabilia and more, it's pretty hard to leave Barefoot Landing empty handed!
Explore your favorite stores from home like White House|Black Market and Sunglasses Hut or discover regional favorites like Kentucky Mist Distillery and the Carolina Hat Company. Barefoot Landing is also home to several one-of-a-kind stores like Christmas Mouse. No matter the time of year, get in the Christmas spirit at this festive store that features Christmas décor and unique ornaments all year long.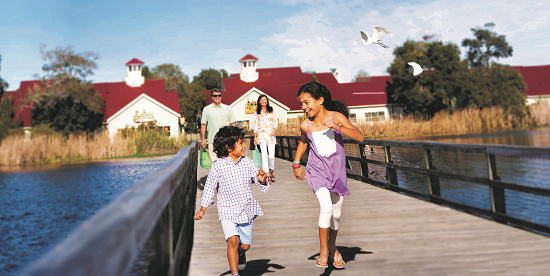 And if a day full of shopping calls for a glass of wine, head to neighboring Duplin Winery. Join in on an informative and delicious wine tasting . . . or simply grab a bottle and uncork it on the oak tree-canopied patio, which often features live music.
PICK UP GEAR YOU MIGHT HAVE LEFT AT HOME
Did you come to the beach without your favorite beach gear? Trust us; it happens to everyone at some point! The good news is, there are plenty of places in North Myrtle Beach where you can pick up swimwear or surf gear. In Barefoot Landing, you'll find Ron Jon Surf Shop, a popular chain filled with a variety of gear for all ages.
With many locations along the Grand Stand, Bargain Beachwear stores are the perfect place to pick up reasonably priced swimsuits, floats, footwear, hats and more.
If you're in the Cherry Grove neighborhood, it's hard to miss the iconic red roof of Boulineau's. Within Boulineau's, you'll find pretty much anything you need for a beach vacation, from beach chairs, noodle floats and life jackets to fine foods and wines. If you're looking for on-trend resort wear, head across the street to Boulineau's-owned Ocean Treasures.
EXPLORE OTHER SHOPPING ON THE GRAND STRAND
There's plenty of shopping in the greater Grand Strand area. In North Myrtle Beach, you'll find Coastal North Town Center off Highway 17, a large shopping complex with numerous places to shop and dine. Located down Highway 17 near Tanger Outlets is the Myrtle Beach Mall, which has popular stores like Bass Pro Shops, JCPenney and Books-A-Million. Continue to drive south into Myrtle Beach proper and explore Broadway at the Beach, a popular tourist destination with more than 75 stores, ranging from children's clothes and women's wear to specialty toy stores.
Now that you've got the information you need to shop until you drop, book your accommodations for the beach getaway (and retail therapy) you deserve!