Excitement around every corner in North Myrtle Beach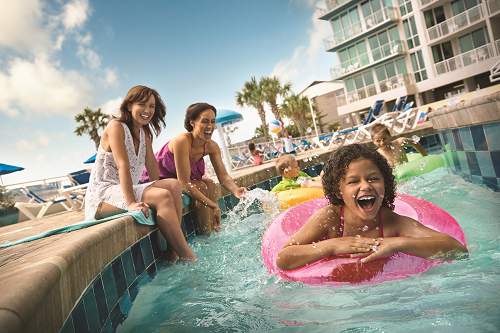 It made sense at the time. Stuffing my suitcase full of toys is what any seven-year-old in my shoes would do. My parents had just told me we were spending a week in North Myrtle Beach—a place I'd never even heard of. It had "beach" in its name, so it sounded exciting. But just in case it was only fun for adults, I wanted to be prepared.
Where the fun goes on forever
"The beach is your backyard here," says the hotel receptionist at Prince Resort. "But don't forget to check out our rooftop pool and the lazy river." As soon as we get to our room, I start digging. My bathing suit is buried somewhere under the Barbies, Legos, coloring books and DVD player I'd wanted to bring. Finally, I find it, and Mom, the sunscreen queen, attacks me. Ten minutes later, we're floating on yellow tubes, bottoms in and bellies up!
"My belly is talking to me," Dad says after our 50th lap around the island. Eventually, we're standing on Cherry Grove Pier where my Blue Bell Ice Cream is melting almost as fast as I can lick it. The fish are more patient. They're still hanging around by the time we rent our fishing gear and walk down to the fishermen at the end. We're so far out over the water. The pier seems to go on forever! "But not as forever as the beach," Mom reminds me, reeling in a baby shark.
"Ready to trade these poles for putters?" Dad asks. He just caught a flounder almost as big as me! I don't think he really wants to mini golf yet. I think he knows that if we stop now there's no chance Mom or I will catch a bigger fish.  
When "mayday" is a good sign
"I've never been to a mini golf course with a back story," Mom says the next day at Mayday Golf. I've never been mini golfing before, so I bring a coloring book – just in case. Mom ends up carrying it in her purse the entire time. I'm too busy pretending our plane crashed and we're playing mini golf on this tropical island until the rescue helicopter comes. The yellow plane and the coastguard chopper are above us in the palm trees. Their propellers are even spinning!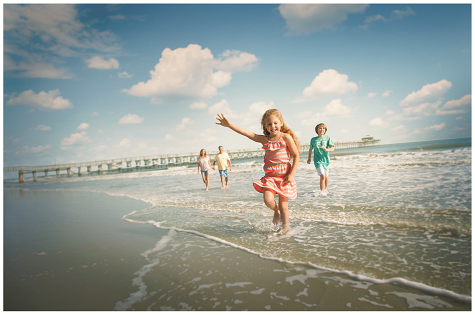 Splash! My ball plops into the stream next to the green. It's heading for a waterfall, so I don't try to fish it out. Instead, the rules say to shout "Mayday!" and give yourself an extra stroke. After the 18 holes of Mayday Mountain, my score is the highest. But just as I'm doing my victory dance, Dad reminds me how the game of golf works. Oh well, at least I had fun. Plus, Mom says, since we're in North Myrtle Beach for an entire week we can come back and play the other 18 holes or Rescue Falls. I'll do better next time. And I'll leave my coloring book back at the resort.
Why I can't wait to turn 10
"You look as big as my Barbies!" I shout down at Mom and Dad. They're cheering me on and taking photos as I conquer the Treetop Junior challenge. When I learned we were going to a place called Go Ape, I thought I'd see an ape. Instead I get to be an ape! I'm high up in the trees, climbing rope ladders, crossing swinging bridges and flying through the forest like Tarzan. There's even a big zipline over a lake. But it's part of the Treetop Adventure course. Mom says that when I'm 10, and a little taller, we can come back for it. Dad says in the meantime he knows of a lake we can cool off in. "It's time to trade this elevated obstacle course for a floating obstacle course!"
It doesn't take long to decide I'm having my 10th birthday party at Shark Wake Park. Not only is it a cable wakeboarding place, it's also the perfect place for playing American Ninja Warrior. On water! I'll never look at a normal bouncy castle the same. This floating park is so big you can play hide and seek on it. Or a really exhausting game of tag. I ride the huge slide into the lake one more time before heading in for my wakeboarding lesson. I've breathed air before. But now, it's time to "catch it."   
How to go ape and "let it go" on the same day
Unlike Go Ape, we actually see alligators at Alligator Adventure. In fact, we see so many it's hard to remember them all. I'll never forget Bob though. She has a boy's name. But the craziest thing about her is what she doesn't have: a tail! Some people might call it bad luck, but we learn it's actually a pretty common birth defect. For good luck, we read we should look into the eyes of the albino alligators. I'll never forget them either: they look like pink-eyed ghost gators! Finally, I make sure Mom gets photos of Utan. Dad calls him a dinosaur. The handler calls him the largest crocodile on exhibit in the U.S. Utan is bigger than our car! It's hard to imagine he's related to the tiny babies we get to touch.
When we get back to the parking lot I ask if I can watch a movie. Alligator Adventure reminded me of "Peter Pan." "Let's let your DVD player collect more dust," Dad says. "We're in North Myrtle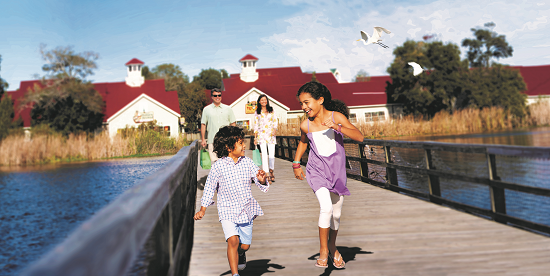 Beach." I stick my lower lip out. But before I can go into full blown pouting mode, Mom says we're headed to a live show at Alabama Theatre. An hour later, we're dancing and singing along to songs from "The Lion King," "Beauty and the Beast" and "Frozen."
Who needs what (and why) 
On our last night of vacation, we go shopping at Barefoot Landing. I have my allowance to spend. But, I'm not in the market for more toys or things. This trip made me realize I might not need them as much as I thought. Instead, I help Mom and Dad pick out gifts for our family and friends. They're back at home—not lucky enough to be shopping for seashell Christmas ornaments, eating a crab feast on the water and watching fireworks explode over North Myrtle Beach. Maybe we should bring them back an albino alligator…
Discover endless possibilities in North Myrtle Beach.
Written in partnership with Madden Media