In North Myrtle Beach, there are several ways to celebrate Easter away from home both safely and responsibly. Attend an inspirational Easter service, participate in local Easter fun, enjoy a delicious Sunday brunch or watch the sun rise over our beautiful, wide beaches.
If You're Looking for an Easter Service: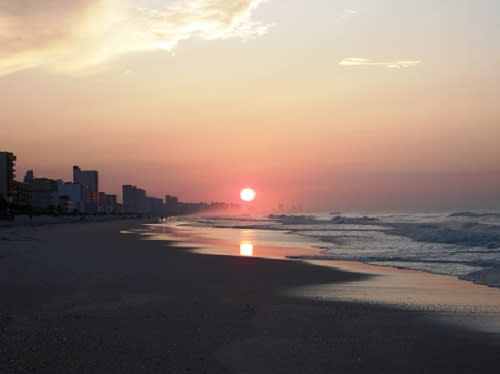 Here are a few of the local churches eager to ready to welcome you in person or online. 
Of course, if you already have a favorite place of worship in our area, contact the church directly for more information regarding Easter services.
If You're Hoping for Easter Fun:
The Barefoot Bunny Hop will take place on Saturday, March 27th from 11am - 2pm. All families are welcome at Barefoot Landing where they can enjoy a DJ & Dance Party on the lawn in the Dockside Village, a chick or treat station, character appearances, and the Big Bunny himself! 
The 39th Annual North Myrtle Beach Easter Egg Hunt returns this year and is free to all! Taking place at McClean Park at 10am sharp on April 3rd, kids can hunt for candy filled eggs based on their age group. Keep an eye out, the Easter Bunny and other special friends are planning to make an appearance as well! 
Looking for Breakfast with the Easter Bunny and.... mermaids? Ripley's Aquarium is will be hosting a delicious breakfast on Saturday, April 3rd from 8am- 10am complete with a live DJ, mermaid meet and greets, crafts, visits from your favorite Ripley's mascots, the Easter Bunny and more! The best part? Your ticket includes admission to the Aquarium so you can explore after your meal! 
You can also get your Photo with the Easter Bunny at Lucy Buffett's Lulu's on April 3rd and 4th from 11am-2pm. Come dressed in your Easter best and enjoy some Easter treats and a great lunch! You can also download their Easter coloring sheet here!
Come to the beach and forget Easter baskets for the kids? Don't worry, there are many conveniently located grocery stores in the North Myrtle Beach area, including Boulineau's Foods. Located in the Cherry Grove neighborhood, this massive, multistory grocery store is home to all the goodies you need to make it look like the Easter Bunny stopped by your condo, beach home or hotel. Be sure to check with your accommodations as many resorts offer their own in-house Easter fun for guests. Avista Resort and Prince Resort have festive activities planned all weekend, plus an Easter Brunch in their restaurants! 
If You're Searching for Easter Brunch:
Don't forget North Myrtle Beach is home to some of the best breakfast spots on the South Carolina coast, and most of these restaurants will be offering breakfast or brunch on Easter Sunday. Local favorites like Chestnut Hill, New York Prime, and Blueberry's Grill are always a huge hit with the whole family. Not ready to dine in? Take your brunch to-go and enjoy it in your room!
While you're planning your vacation, be sure to download our 2021 Official North Myrtle Beach Visitors Guide for more information on the best North Myrtle Beach has to offer. Happy Easter!