In North Myrtle Beach, there are several ways to make your Easter away from home memorable. Attend an inspirational Easter service, participate in our community Easter Egg Hunt, enjoy a delicious Sunday brunch or watch the sun rise over our beautiful, wide beaches.
If You're Looking for an Easter Service: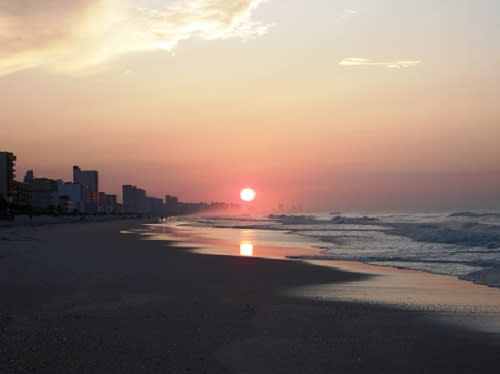 Here are a few of the local churches eager to welcome:
Of course, if you already have a favorite place of worship in our area, contact the church directly for more information regarding Easter services.
If You're Observing Passover:
Temple Emanu-El, located in Myrtle Beach, will be hosting a Community Seder on Friday, April 19, at 6:30 p.m. For the menu and more information on this annual event, visit their Facebook page. Be sure to RSVP by April 12!
If You're Hoping for Easter Candy:
Once again, the City of North Myrtle Beach is hosting its 37th Annual Easter Egg Hunt on Saturday, April 20, at McLean Park at 10 a.m. There will be egg hunt areas for various age groups, so this is a perfect family-friendly (and free) event for everyone to enjoy.
Come to the beach and forget Easter baskets for the kids? Don't worry, there are many conveniently located grocery stores in the North Myrtle Beach area, including Boulineau's Foods. Located in the Cherry Grove neighborhood, this massive, multistory grocery store is home to all the goodies you need to make it look like the Easter Bunny stopped by your condo, beach home or hotel.
If You're Searching for Easter Brunch:
Don't forget North Myrtle Beach is home to some of the best breakfast spots on the South Carolina coast, and most of these restaurants will be offering breakfast or brunch on Easter Sunday. For a truly memorable meal, don't miss the House of Blues World Famous Gospel Brunch on Easter Sunday. The all-you-can-eat buffet featuring breakfast favorites, Southern specialties, carving stations, mouthwatering desserts and live music will begin at 9 a.m. Make your reservation today!
While you're planning your vacation, be sure to download our Visitors Guide for more information on the best North Myrtle Beach has to offer. Happy Easter!